Women's PRO Shorts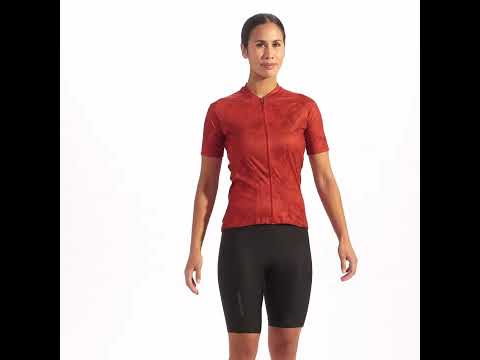 Women's PRO Shorts
SKU #11212202021XS
•
In Stock
Luxurious feel and premium fabrics, now with new Levitate PRO chamois
Free Shipping on Orders Over $99
Lifetime Warranty
Crafted with long ride comfort at the top of the list, we paired our all new Women's Levitate PRO Chamois with luxurious Italian PRO Transfer fabric to create a premium short that you will reach for again and again. Just seven carefully engineered panels are used to minimize seaming for a perfect contour to your body. A wide, yoga-inspired waistband provides a secure yet supportive fit without feeling restrictive. And raw edge hems create a smooth transition from short to skin for a sleek, high-performance look and feel, while a printed silicone gripper holds them securely in place even during hard efforts.
Pedal to Zero™: Going by bike 13mi / 21km offsets the climate impact of this garment
Luxurious Italian PRO Transfer fabric provides balanced compression for ultimate comfort
New Women's Levitate™ PRO Chamois pad with triple-density design delivers unmatched comfort
Wide, yoga-inspired waistband provides support without feeling constrictive
Laser-cut raw edge leg hem construction for seamless transition to skin
BioViz® reflective elements for low-light visibility
8.5" inseam
46% nylon, 38% polyester, 16% LYCRA® elastane
USE SIMPLE DETERGENTS WITH NO ADDITIVES Never use detergents with fabric softeners, perfumes or any additive type product. The general rule of thumb is the simpler the better. Many detergents with additives leave "surfactants" behind on a fabric's fibers that inhibit the technical performance. Typically the best detergents to use will have "Clear" or "Free" in their names. Don't pour the detergent directly onto the clothing, put it in the washer first, when you start the water. If something is not functionally working, but is not dirty, try rinsing it twice in warm to hot water. This will help get rid of the harmful surfactants. READ THE CONTENT CARE LABEL: On the inside of your garment, or on the hangcard, there are instructions for the care of that individual piece. On garments this will be on a side seam or back seam label. Follow those directions. On finer fabrics, use a "Gentle" cycle. Close all zippers, attach "hook and loop" closures on gloves YOU CAN USE THE DRYER, CAREFULLY: If you use a dryer be sure to use a lower / warm heat setting (Do NOT use a commercial dryer or a "Hot" setting). This will often restore the fabric and help the water and wind repellent qualities. If in doubt, hang the clothing to dry.
Features & Technology
All About the Women's PRO Shorts - with Hannah Shell
PEARL iZUMi racer Hannah Shell takes you through the Women's PRO Short with the new Levitate PRO Chamois and explains where it fits within the rest of the Women's PRO Short line.
Watch video